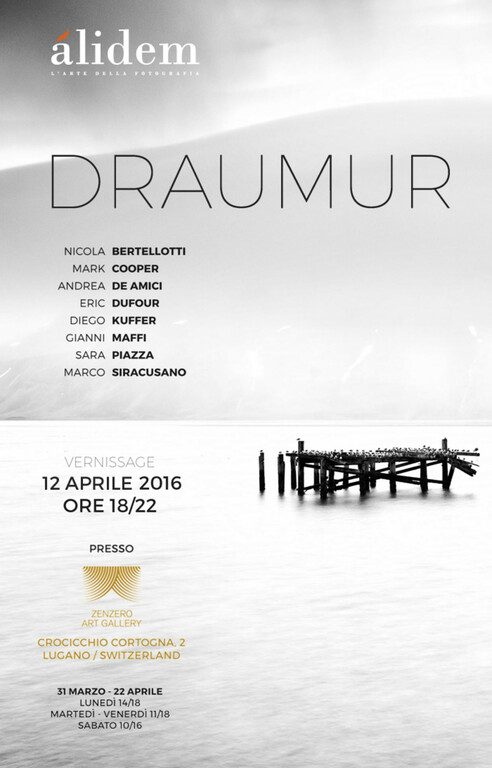 ALIDEM AND ZENZERO ART GALLERY - LUGANO
Alidem - The Art of Photography, in partnership with Zenzero Art Gallery (Lugano), is proud to present the collective photography exhibition Draumur
Alidem is a Milan-based innovative and exclusive project. It was born from the awareness that photography has acquired a prominent role within the international cultural debate. Alidem's wide collection of photographs currently includes more than 2000 original works, all with a certificate of authenticity.
Alidem represents more than 60 contemporary photographs, from Italy or abroad. All the photographs are limited-edition pieces that can be purchased in different sizes and formats, which are carefully designed to suit the artistic characteristics of the single artwork.
On this special occasion, Alidem joins Zenzero Art Gallery in Lugano, to begin a fruitful collaboration that will bring great chances of development.
To celebrate this new partnership, Zenzero Art Gallery will host a photography exhibition that will open on April 12th and will feature a selection of photographs exploring the variety of Alidem's vast collection.
The common theme of the eleven photographs that Alidem has chosen for the show will be the capacity of images of expressing the dreamlike and inward-looking dimension that characterises the life of men in any period of time:
The Pearl, by Nicola Bertellotti
leggerMENTE, by Sara Piazza
White #1, by Marco Siracusano
Line #7, by Marco Siracusano
Teatro grande, by Gianni Maffi
Pompei, by Gianni Maffi
Capo Caccia, by Gianni Maffi
Il rumore del silenzio di Djupavik, by Andrea De Amici
Genesis Day 1 - Impulse, by Mark Cooper
Polychromie, by Eric Dufour
Youpix #01, by Diego Kuffer
The title of the show is a tribute to the evocative atmosphere that these images can create: Draumur, a word that means "dream" in Icelandic; and from Iceland also comes the photograph - a landscape by Andrea De Amici - that has been chosen to be the symbol of the entire exhibition.
A finger snap, an invisible trick and everything changes.
What was there still remains but it is not the same anymore…
Now the wreck of a villa is my home. I open the window and the white fog of Iceland is my sea.
I go out to get a newspaper: the shop is an old Pompeian temple.
Once again, it is the first day of the Genesis, when everything is yet to be done, everything can decide what to become.
This is my dream and when I wake up this will still have a meaning for me.
It will be there, faintly.
Vernissage Thursday 31st March 2016
From 18.00 to 22.00
The exhibition runs from Friday 1st April to Friday 22nd April 2016
Every day, 11.00 – 18.00
Monday, 14.00 –18.00
Saturday, 10.00 – 16.00
At Zenzero Art Gallery
Crocicchio Cortogna, 2
Lugano / Switzerland