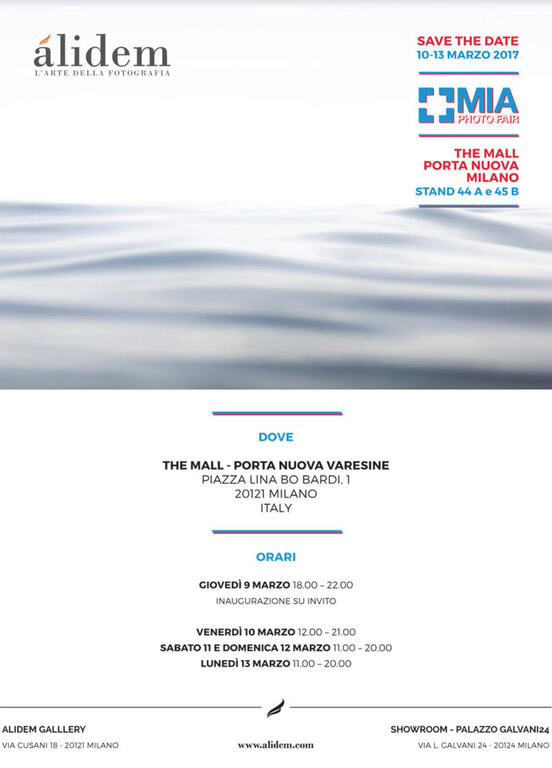 Alidem at MIA Photo Fair 2017
Following the Affordable Art Fair, Alidem renews its commitment toward the world of contemporary art and once again participates in MIA Photo Fair (7th edition), which will take place between 10 to 13 March at The Mall, in the district of Porta Nuova in Milan.
Alongside a selection of artworks by Nicola Bertellotti, Cesare Di Liborio, Carlo D'Orta and Marco Siracusano, we will present the Alidem Photo Trouvée: anonymous shots, pictures of everyday life, glimpses of reality, landscapes, portraits, real lives, habits and traditions, moments from a time that has long gone by.
It's the memory of seasons that we thought had gone forever but that, on the contrary, have been retrieved and revitalised, and that have come back to the present time to tell us about emotions, stories, eras.
To this genre belong photographs that dates back from the end of the XIX century to the 60s of the XX century. Pictures that are not categorisable into a specific genre or school, because they deal with heterogeneous themes.
They are almost 'photographic' remains that are eventually brought back to light.
The fact that there are still few critical studies on this kind of art – especially in Italy – is an evidence of the birth of a new tendency in art collecting, on which Alidem has decided to invest. Moving from the belief that the photo trouvée is a public heritage. A trunk to open to let be captured by photographs that convey the power of a relationship. Of a letter exchange. Feelings that awake the soul.
Alidem will exhibit afascinating selection of these shots at the stands nr. 44A e 45B at MIA Photo Fair.
Come visit us!