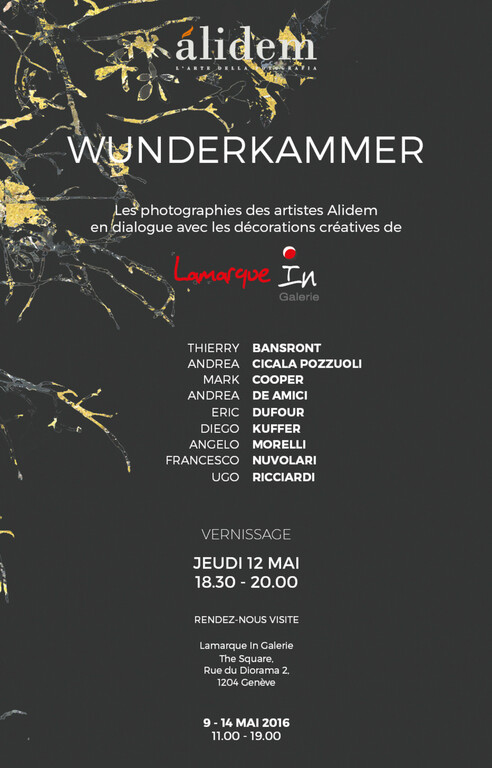 Alidem in Geneva
MILAN, ALIDEM - THE ART OF PHOTOGRAPHY and GENEVA, LAMARQUE GALLERY
When: 9 -14 May 2016
Where: The Square, rue du Diorama, 2 1204 Genève
Opening: 12 May from 18.30 to 20
Selected Artists:
- Mark Cooper
- Andrea De Amici
- Eric Dufour
- Diego Kuffer
- Andrea Pozzuoli
- Francesco Nuvolari
- Thierry Bansront
- Angelo Morelli
- Ugo Ricciardi
"That strange precinct we call 'art' is like a hall of mirrors or a whispering gallery. Each form conjures up a thousand memories and after-images. No sooner is an image presented as art then, by this very act, a new frame of reference is created which it cannot escape. It becomes part of an institution". (E.H. Gombrich).
Wunderkammer - literally "cabinets of wonder" - is a German expression that describes the rooms where, between XVI and XVII century, collectors of curiosities housed their incredible collections of objects, items that looked extraordinary to them for both their inherent or aesthetic qualities. These collections - although neither scientifically nor methodically organised - were precursors to modern museums.
The purpose of the original Wunderkammer was to amaze the observers, presenting them with a variety of extraordinary objects. Throughout Wunderkammer, the same wonder-effect is obtained thanks to the enhancement of each photograph's characteristics and to the presence of ornamental and recreational elements. The reiteration of the same subjects and the intriguing art photographs create new associations, unusual connections and synapsis that question the observers' personal universe.
The exhibition invites the observers to explore analogies and cross references between different meanings, following an itinerary of marvellous and fantastic associations.
Images tell us a story, they can show something that we do not know. Images and sculptures are displayed like objects in a collector/artist's cabinet, a source of learned entertainment dominated by the idea that imagination and inventiveness are the origins of everything.
The playful sculptures, modern sphinxes with geometric or colourful patterns, are the guardians of the artworks; speaking a chromatic language, they can start a dialogue with the photographs selected by Alidem. The entrance is a hall of mirrors, with reflections, refractions and repetitions.
Like in a contemporary Wunderkammer, where the collected marvels are put next to each other, the sculptures engage the pictures in a confrontation. From this dialogue stems a unique and individual universe enlivened by kaleidoscopic refractions, eye gazes, mirrors and chromatic patterns that keep repeating themselves and continuously change their aspect although they are always the same subject/object.