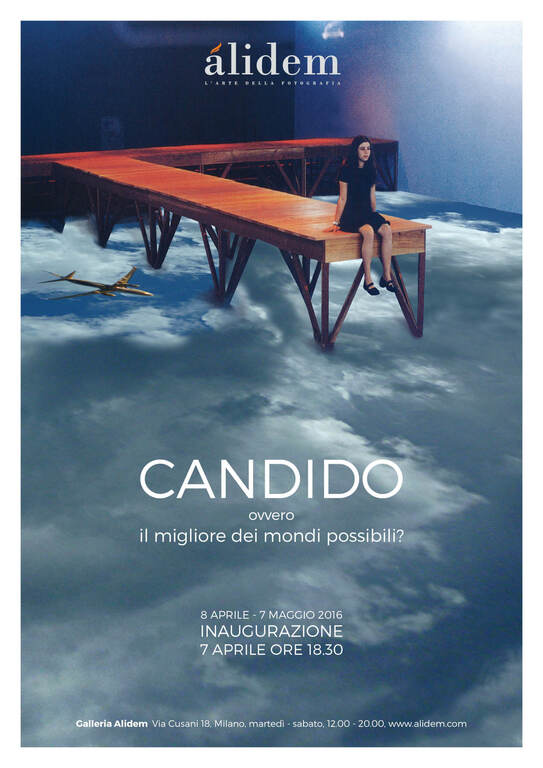 CANDIDE. THE BEST OF ALL POSSIBLE WORLDS?
Alidem - The Art of Photography is proud to present Candido. Ovvero il migliore dei mondi possibili? (Candide. The Best of All Possible Worlds?), a collective photography exhibition that will open on Thursday 7th April at 6.30pm in via Cusani, 18 in Milan.
Alidem has selected 31 photography works from its collection, which will take the visitors on a journey to follow Candide, the famous literary character stemmed out of Voltaire's imagination.
Candide unrelentingly travels to explore what is - in his opinion - the "best of all possible worlds", and never changes his mind although he is constantly challenged by adverse circumstances that could easily belie his naïve belief.
The title of the exhibition brings in an ironic and thought-provoking question mark: the contemporary man is thought to be living in an era where technology and serial production are strictly intertwined, where apocalyptic scenarios and optimistic previsions coexist.
What side to lean to, it is for us to decide.
"It is proven, he would say, that things cannot be otherwise: for, everything having been made for a purpose, everything is necessarily made for the best purpose. Observe that noses were made to support spectacles, hence we have spectacles. Legs were obviously instituted to be clad in breeches, and we have breeches […] and, pigs having been created to be eaten, we eat pork all year round; consequently, those who have proposed that all is well have spoken nonsense; they should have said that all is at its best".
Voltaire, Candide
Featured artists: Slevin Aaron, Nicola Bertellotti, Federica Cogo, Linda Ferrari, Jan Kaesbach, Diego Kuffer, Jaime Lieberman, Gaetano Musto, Barbara Nati, Francesco Nuvolari, Rori Palazzo, Stefano Parisi, Loreal Prystaj e Francesco Romoli.