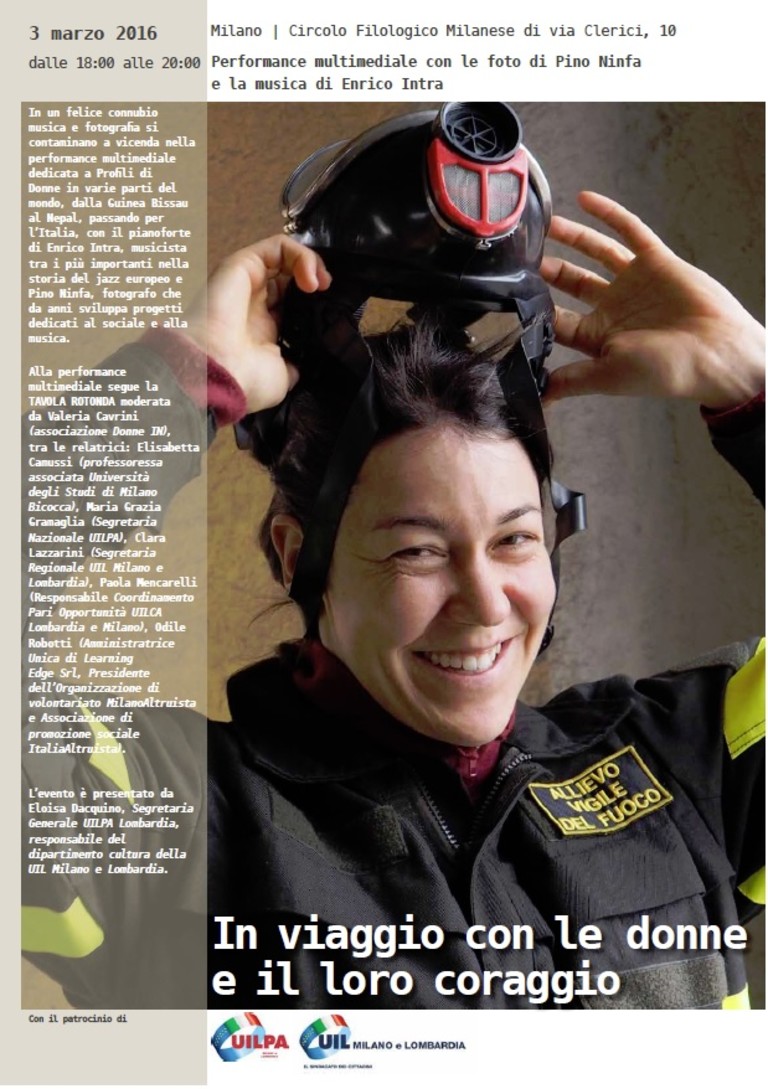 PINO NINFA - TRAVELLING WITH WOMEN AND THEIR COURAGE
Music and photography: a sublime combination than can arouse nothing but great emotions. On Thursday 3rd March, the department of culture of UIL Milano e Lombardia and UIL Pubblica Amministrazione Milano e Lombardia will be presenting
In viaggio con le donne e il loro coraggio
, an exhibition held at the Circolo Filologico Milanese (Milano). A multimedia project that is intended to celebrate the courage of being women - worldwide and locally. The combination of music and photography exalts the creative and poetic aspects of women's lives and occupations, with a special focus on how women can have a great impact on the protection of environment. An exhibition fully devoted to women, who are often abused and neglected, who often struggle to get recognition for their economic and social importance. Featuring photographs by
Pino Ninfa
and thanks to the collaboration of maestro Enrico Intra.
In viaggio con le donne e il loro coraggio
("Travelling with women and their courage") will explore the stories of many women in Italy and in the rest of the world, stimulating reflection and debate. We will learn about women in Guinea Bissau (gathering salt from the river), Mozambique (the world of agriculture), South Africa (singing on the way to work), Palestine (Basr Hospital), Peru (the Amazon forest), Italy (working in the public administration). Daily-life experiences that can arouse inspiration, reflection, cultural awareness.