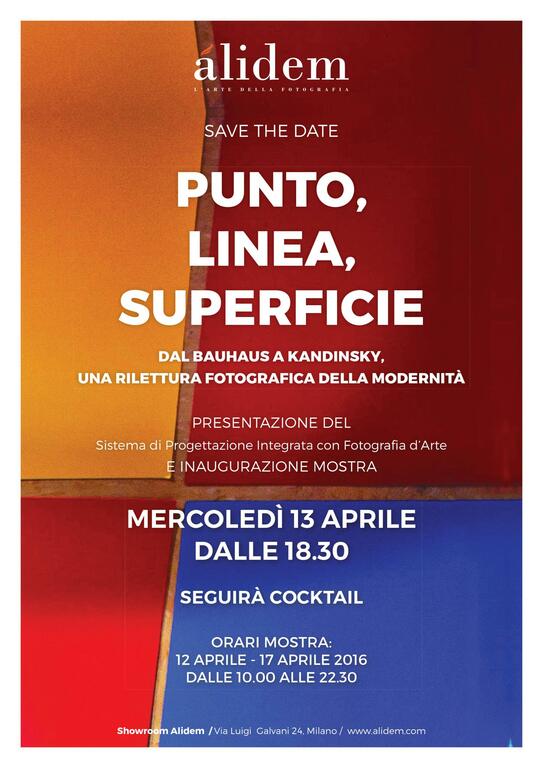 Point, line, plane. From the Bauhaus to Kandinsky: a Photographic Re-reading of Modernity
Point, line and plane: these are the three words that the Russian artist Vassily Kandinsky chose to title one of his texts, a collection of his lectures at the famous school of architecture, art and design known as Bauhaus - a text that is now considered as a fundamental and innovative contribution to the theory of art, in both painting and photography.
The exhibition has been designed through a careful selection of artworks that take the visitors to a world where every image is a lively entity participating in a blissful combination of fine art photography and interior design. Viewers can really immerse themselves in the photographs, they can actively relate with images and enjoy them through all their five senses. Thanks to the selected photographs, the meaning of a line needs to be examined no further: the surrounding space is itself a linear and balanced composition of intuition and technique.
On Wednesday 13th April, Alidem will be pleased to present the innovative Projecting System with Integrated Art Photography.
In order to support a new projecting system, Alidem opens its collection to the public and aims to foster the dialogue between art photography and design, offering an unprecedented and exclusive service to its partners. The photographs of Alidem will be made available to interior designers, architects and contracts, in order to create exclusive set-ups and new arrangements that can better suit the contemporary living spaces and interior design - thanks to the integration of photography and projecting.
Among the photographers featured in the show: Eric Dufour, Marco Siracusano, Angelo Morelli, Samir Khadem, Diego Kuffer, Loreal Prystaj, Sara Piazza, Pino Ninfa, Mark Cooper.
Showroom Alidem, via Galvani 24
- System - business proposal
Presentation and Drink reception: 13 April at 18.30
- Point, line, plane. From the Bauhaus to Kandinsky: a Photographic Re-reading of Modernity - photography exhibition
Opening: 13 April 2016 at 18.30
From 12 April to 17 April 2016
From 10.00 to 22.30