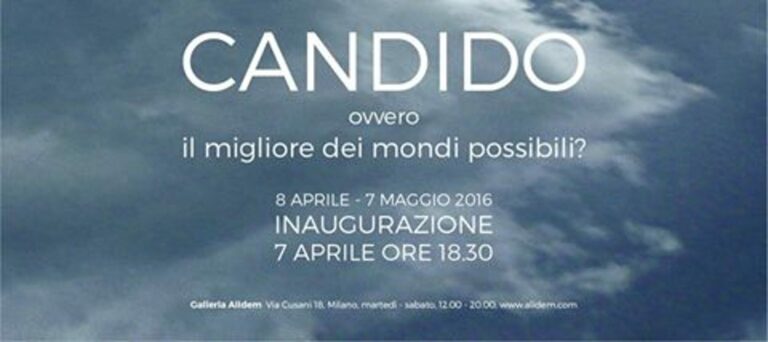 SALONE DEL MOBILE AND FUORISALONE 2016
Alidem - The Art of Photography is pleased to present the three events that will take place on the occasion of the 55th Salone del Mobile and FuoriSalone 2016, the design fair that every year brings "innovation and internationality" to Milan.
Three different events will take place at the very heart of the city:
Galleria Alidem, via Cusani 18, Milan:
CANDIDE - The Best of All Possible Worlds?
Alidem - The Art of Photography is proud to present Candido. Ovvero il migliore dei mondi possibili? (Candide. The Best of All Possible Worlds?), a collective photography exhibition that will open on Thursday 7th April at 6.30pm in via Cusani, 18 in Milan.
Alidem has selected 31 photography works from its collection, which will take the visitors on a journey to follow Candide, the famous literary character stemmed out of Voltaire's imagination.
Candide unrelentingly travels to explore what is - in his opinion - the "best of all possible worlds", and never changes his mind although he is constantly challenged by adverse circumstances that could easily belie his naïve belief.
The title of the exhibition brings in an ironic and thought-provoking question mark: the contemporary man is thought to be living in an era where technology and serial production are strictly intertwined, where apocalyptic scenarios and optimistic previsions coexist.
What side to lean to, it is for us to decide.
"It is proven, he would say, that things cannot be otherwise: for, everything having been made for a purpose, everything is necessarily made for the best purpose. Observe that noses were made to support spectacles, hence we have spectacles. Legs were obviously instituted to be clad in breeches, and we have breeches […] and, pigs having been created to be eaten, we eat pork all year round; consequently, those who have proposed that all is well have spoken nonsense; they should have said that all is at its best".
Featured artists: Slevin Aaron, Nicola Bertellotti, Federica Cogo, Linda Ferrari, Jan Kaesbach, Diego Kuffer, Jaime Lieberman, Gaetano Musto, Barbara Nati, Francesco Nuvolari, Rori Palazzo, Stefano Parisi, Loreal Prystaj e Francesco Romoli.
Showroom Alidem, via Galvani 24, Milan:
Point, line and plane: these are the three words that the Russian artist Vassily Kandinsky chose to title one of his texts, a collection of his lectures at the famous school of architecture, art and design known as Bauhaus - a text that is now considered as a fundamental and innovative contribution to the theory of art, in both painting and photography.
The exhibition has been designed through a careful selection of artworks that take the visitors to a world where every image is a lively entity participating in a blissful combination of fine art photography and interior design. Viewers can really immerse themselves in the photographs, they can actively relate with images and enjoy them through all their five senses. Thanks to the selected photographs, the meaning of a line needs to be examined no further: the surrounding space is itself a linear and balanced composition of intuition and technique.
On Wednesday 13th April, Alidem will be pleased to present the innovative Projecting System with Integrated Art Photography.
In order to support a new projecting system, Alidem opens its collection to the public and aims to foster the dialogue between art photography and design, offering an unprecedented and exclusive service to its partners. The photographs of Alidem will be made available to interior designers, architects and contracts, in order to create exclusive set-ups and new arrangements that can better suit the contemporary living spaces and interior design - thanks to the integration of photography and projecting.
Among the photographers featured in the show: Eric Dufour, Marco Siracusano, Angelo Morelli, Samir Khadem, Diego Kuffer, Loreal Prystaj, Sara Piazza, Pino Ninfa, Mark Cooper.
INTERNI OPEN BORDERS ~ Università degli Studi di Milano, via Festa del Perdono 7
An art installation will presents the rich collection of photography works of Alidem. The aim is to restore a particular way of exhibiting artworks – the one of the Salons - which, before the rise of museums and their logic, was meant to celebrate the great art collections. The Salons represented in fact the beating heart of an idea of art that was increasingly perceived as something to preserve and to show at once, in order to share the beauty of art with a wider audience.
Victims of a decadence that misled them to an improper enjoyment of art, the Salons have quickly been associated with a mere display of opulence whose true value has not been adequately recognised.
Alidem overcomes the limits of the traditional exhibition space and brings these illustrious and neglected predecessors back. The Salons are now at the heart of the contemporary world, where they can create an expressive and powerful synergy between the two prominent languages of our age: design and photography.
Galleria Alidem, via Cusani 18
Candide. The Best of All Possible Worlds? - Photography exhibition
Opening: 7 April at 18.30
From 8 April to 7 May 2016
Tue-Sat from 12.00 to 20.00
Extraordinary opening times from 12 April to 17 April from 12.00 to 22.30
Showroom Alidem, via Galvani 24
- System - business proposal
Presentation and Drink reception: 13 April at 18.30
- Point, line, plane. From the Bauhaus to Kandinsky: a Photographic Re-reading of Modernity - photography exhibition
Opening: 13 April 2016 at 18.30
From 12 April to 17 April 2016
From 10.00 to 22.30
Interni open borders
Università degli Studi di Milano, Aula Magna, via Festa del Perdono 7
L'art de la photographie Site specific photography installation
Press conference: 11 April 2016 at 14.30
From 12 April to 22 April 2016