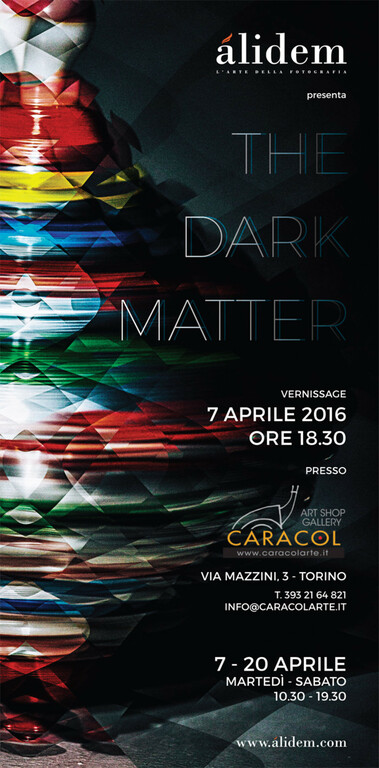 THE DARK MATTER - CARACOL ART SHOP GALLERY (TURIN)
Alidem - The Art of Photography, in partnership with Caracol. Art Shop Gallery (Turin), presents the collective photography exhibition The Dark Matter.
Alidem is an innovative and exclusive project by Pompeo Locatelli, an art collector and financial consultant. The project arose from the awareness that photography has acquired a prominent role within the international cultural scenario. Alidem's collection is always growing, and aims to offer new ways to look at photography by presenting more than 2000 certified original photographs.
Alidem represents more than 60 contemporary photographs, both Italian and international. The photographs are available in limited edition and can be purchased in different sizes and formats, all designed to better support the artistic characteristics of the artworks.
Whoever purchases one of Alidem's artworks always finds great satisfaction in their investment, since art is a huge opportunity of increasing one's assets while also enjoying the 'aesthetic dividend': the benefit fostered by contemplating the purchased artwork every day.
On this special occasion, Milan-based Alidem meets Caracol Arte in Turin, to start a fruitful collaboration that will bring great chances of development.
A photography exhibition will celebrate this new partnership: the show will open on April 7th 2016 and will be held at the beautiful Galleria Caracol, in via Mazzini 3 (Turin). A selection of more than thirty photographs will present the variety of Alidem's wide collection.
The photographs will focus on a common theme that will take the form of a narration, where different ages, potentialities, visions and people will homage a mysterious and riveting topic:
«A halo of dark matter surrounds the Milky Way. The particles that constitute this massive dark matter halo travel all around the galaxy, with no regard to planets, stars, dust or any other form of matter that surrounds them.
For a dark matter particle, the world is a lonely and quiet place to be.
In very rare occasions, though, two of these particles can meet. When something like this happens they can abruptly break their usual silence».
Galaxies have a centrifugal power so strong that - theoretically - it could overcome gravity. Notwithstanding this, galaxies are not subjected to the unavoidable process of disaggregation that one would expect.
Given that, one needs to accept that there must be a reason to explain why this is not happening. Since we can neither touch nor see this element that keeps the universe together, scholars resolved to call it the "dark matter": something currently invisible to any available instrument, whose existence can be only assumed by the visible effects that it has on what is measurable - what we can actually observe every day.
More than 90% of the universe is made by dark matter. This invisible fundamental entity would allow men to know their destiny. The memory of our chances of development, our pre-history and our future rely upon these unknown particles.
The artist featured in the exhibition are: Nicola Bertellotti, Mark Cooper, Erik Dufour, Anton F., Samir Khadem, Diego Kuffer, Gianni Maffi, Edoardo Miola, Angelo Morelli, Pino Ninfa, Gianluca Pollini, Andrea Cicala Pozzuoli, Ugo Ricciardi, Thomas Salme, Marco Siracusano,Wolfgang Wesener – WOWE.
Classic, emerging and recommended artists are the three categories currently presented by Alidem, which is proud to support its artists and help them to bring their artistic researches further on.
Vernissage Thursday 7th April 2016
From 18.30
The exhibition will run from Friday 8th April to Wednesday 20th April 2016
Tuesday, Wednesday, Thursday, from 10.30 to 19.00
Friday and Saturday from 10.00 to 19.00
Venue: Caracol Art Shop Gallery
Via Mazzini, 3
Turin, Italy
Phone nr. + 39 393 21 64 821
E-mail: info@caracolarte.it